In July 2015, Mondelez International announced plans to move production from Chicago and invest $130 million to install four new food manufacturing lines in Salinas, Mexico. The investment replaced nine older, less efficient manufacturing lines on Chicago's South Side. For 600 manufacturing workers on Chicago's South-Side, the announcement meant the end of their careers making Oreo cookies. And for the state of Illinois, it was the sixth major announcement of a manufacturer leaving the Land of Lincoln in the month of July 2015 alone.
Then-candidate Donald Trump famously declared, "I'm not eating any more Oreos" after learning of Mondelez's announcement. "It's such an American company," he said.
But as president, Trump will be in a position to help keep confectionery manufacturing companies in the U.S., and in Chicago in particular. The Trump administration can make changes in U.S. trade policy and challenge outdated and costly sugar tariffs. Such a move would help manufacturers in Illinois and Chicago, a city with a history as a center for confectionery manufacturing.
The problem is the price of sugar, which is unusually high in the United States due to restrictions on sugar imports. Sugar can be the largest ingredient in products like Oreos and other sweets. Yet the U.S. imposes heavy tariffs on foreign sugar, which is produced more efficiently in tropical countries. This has resulted in two commodity futures prices for sugar in financial futures markets: sugar no. 11, which is the global price for sugar, and sugar no. 16, which is the U.S. price for sugar. As of Dec. 2, sugar no. 11 is priced at 18.88 cents per pound for March delivery, while sugar no. 16 is priced at 29 cents per pound for March delivery.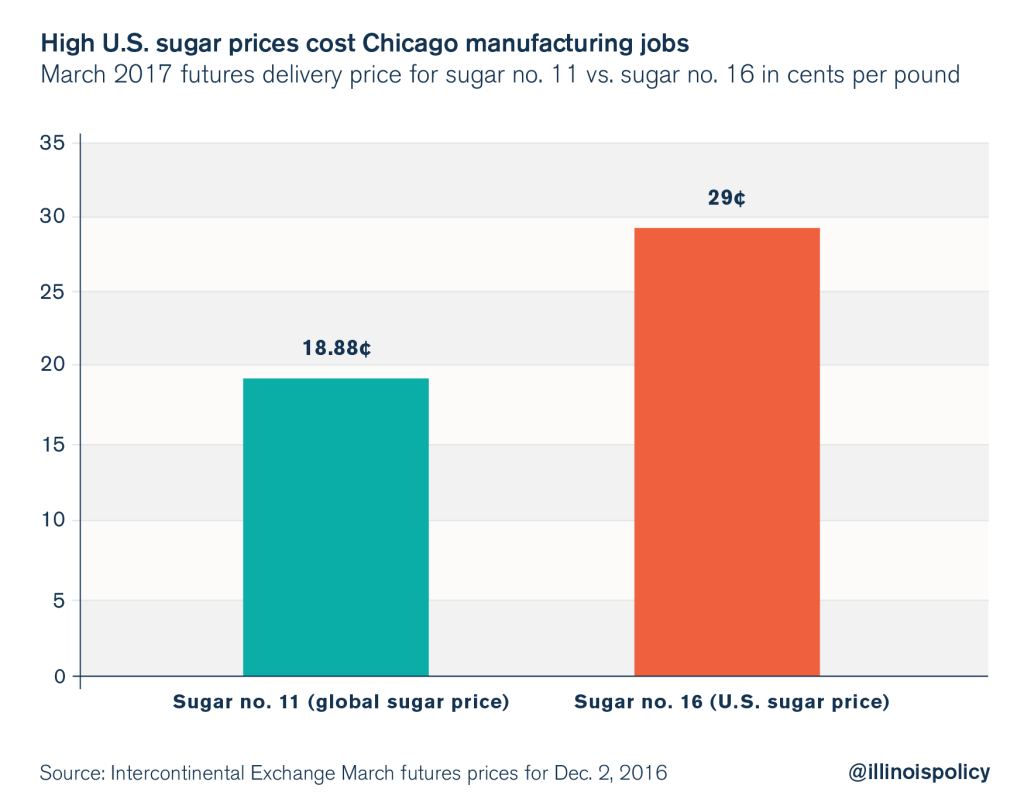 When Mondelez announced plans to move Oreos production to Mexico, the difference was even more stark, with sugar no. 11 priced at 10.44 cents per pound and sugar no. 16 priced at 24.5 cents per pound.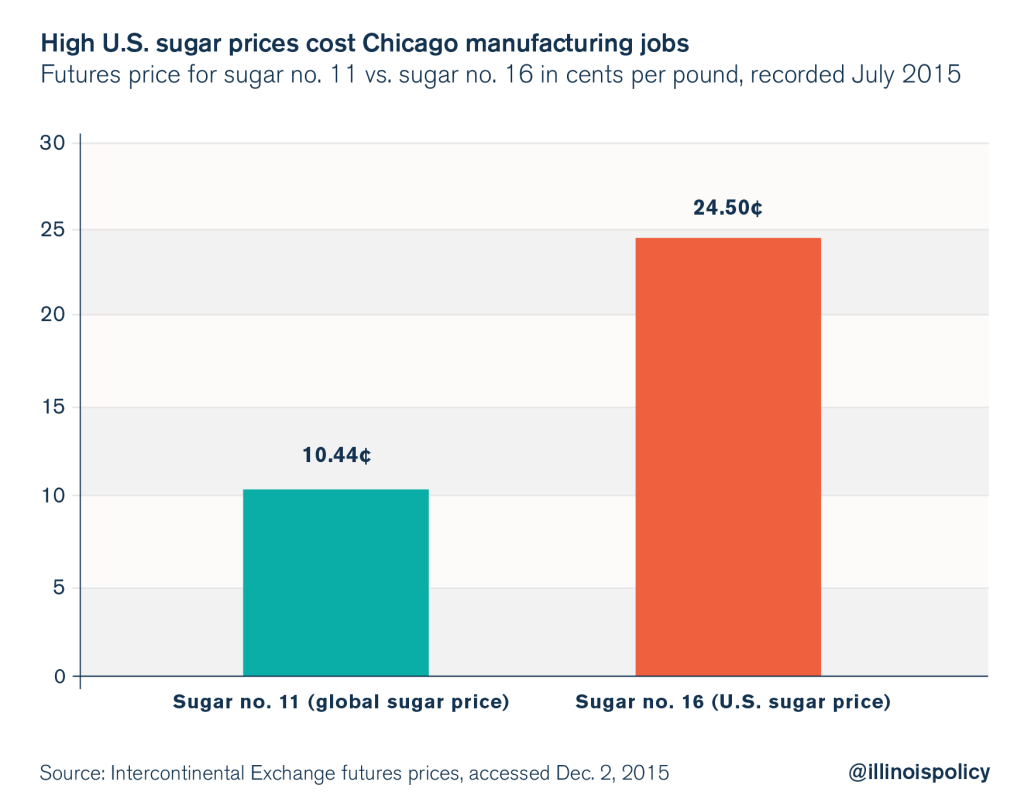 Trump famously lamented the exodus of Oreo cookie manufacturing from Chicago's South Side as a sign of declining job opportunities for blue-collar American workers. But U.S. trade policy is much to blame not only for the exit of Oreos but also for the loss of other sugar manufacturers from Chicago.
According to a report from The Heritage Foundation, the American sugar industry has been protected from foreign competition since the 1920 Sugar Act, costing U.S. jobs and driving up prices for consumers. The U.S. government guarantees a minimum price for sugar by restricting low-price imports and putting extremely high tariffs on foreign sugar.
Research from the U.S. government confirms this. A 2006 report from the federal government's International Trade Administration concluded: "Chicago, one of the largest U.S. cities for confectionery manufacturing, has lost nearly one-third of its [sugar containing product, or SCP,] manufacturing jobs over the last 13 years. These losses are attributed, in part, to high U.S. sugar prices."
The report also notes a cruel trade-off in U.S. trade policy that has affected the Chicago area. The sugar tariffs protect inefficient domestic sugar production but make it hard to keep domestic manufacturing jobs in producing SCPs. The report notes: "For each one sugar growing and harvesting job saved through high U.S. sugar prices, nearly three confectionery manufacturing jobs are lost."
Chicago and Illinois have plenty of their own problems on the manufacturing front, with issues such as high property taxes and workers' compensation costs driving production facilities to other states. Even the CEO of Illinois-based Caterpillar Inc. said his company is reluctant to invest in Illinois given the state's tax and regulatory policies. Illinois and Chicago can ill afford additional hits to their manufacturing sectors caused by poor federal trade policies.
Trump can help Illinois and Chicago manufacturing workers by establishing free trade in sugar, which would help the area compete for manufacturing jobs again.
Illinois Policy.