In Gamaches-en-Vexin, Normandy, the heart of France's sugar-beet country, farmers like Alexandre Quillet are busier than usual for this time of year.
Quillet is expanding his crop to prepare for the end of more than a decade of rules that capped European Union sugar output, set guaranteed prices for beet growers and limited exports. Farmers in France, the largest sugar producer in the 28-member bloc, are banking on more production to usher in a sweeter future, even if it means more market risk.
"I'm going from stability to uncertainty, but there's no other crop that's certain," said Quillet, 59, a fourth-generation sugar-beet grower who farms 400 hectares in the plains of northern France with his son. He's currently buying seeds and in March plans to sow beets on 67 hectares of land, up 26 percent from last year.
Sugar producers including Tereos, Saint-Louis and Cristal Union have asked beet farmers to boost their output by about 20 percent. While sugar, one of the top commodity performers in 2016, is extending gains on concern about lagging output from India, the world's second-largest producer, increased EU supplies may put a lid on the rally.
"The EU is really going to spoil any bullish party," said Robin Shaw, an analyst at brokerage Marex Spectron Group Ltd. in London. "We've been talking to the farmers and the farmers have all signed up with the processors to two- three -four -five-year contracts to produce the maximum amount."
New Markets
Come October, the EU will see an end to restrictions put in place in 2006 that limited sugar production. The restrictions came after measures the bloc had imposed in 1968 to ensure food security were rejected by the World Trade Organization, curbing the amount of sugar producers could sell in the domestic market and boosting imports.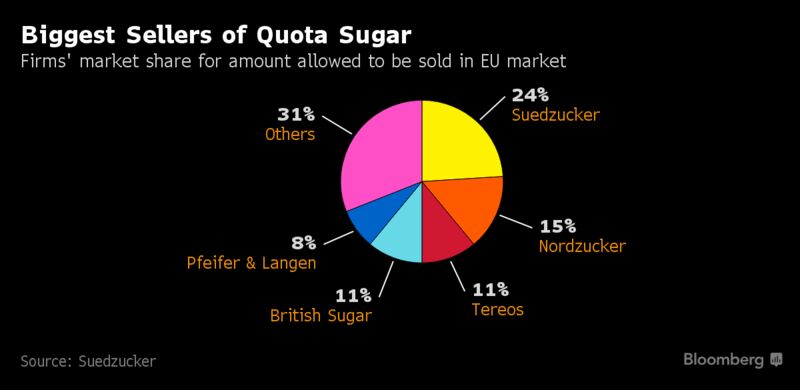 With the quotas gone, EU output may reach 20 million tons, a jump of about 20 percent, according to Rabobank International. French producers expect to add about 1 million tons to their combined annual production of 4.5 million tons. France's crops office, FranceAgriMer, estimates domestic demand at about 3 million tons, which means producers will seek out export markets.
"We're set to serve global markets," Alain Commissaire, head of Cristal Union, said in a telephone interview from Villette-sur-Aube in northeastern France. "We've followed industrial clients and traders abroad and now that we won't be limited anymore, we'll be able to supply them."
Cristal Union aims to increase sales outside the EU four-fold by 2020, or about 1 million tons. Tereos has the same export target, which would be double its current shipments. Saint Louis, a unit of Germany's Sudzuecker, the EU's largest producer, plans to raise sales outside France by more than 50 percent as it ramps sugar output to 1 million tons from 800,000 tons. French manufacturers currently export about 1.9 million tons a year within and outside the bloc.
Their plans to increase exports come after sugar futures surged 28 percent last year in New York, the biggest gain since 2009, and touched a four-year high of 24.1 cents a pound in September. But signs of a bigger than expected crop in Brazil in 2016-17, the world's largest producer, and the prospect of more supply from Europe in the next season sent sugar into a bear market in December. Prices closed Tuesday at 20.45 cents.
"Prices are likely to fluctuate between 16 cents and 20 cents a pound," said Carsten Stahn, president of Saint-Louis. "We're comfortably making money at that level."
Napoleonic Wars
After quotas end, EU sugar exports may vary from 2 million to 5 million tons a year, industry estimates show. That compares with 1.37 million tons under quota rules. French manufacturers are targeting markets in the U.K., Spain, Bulgaria, Greece, Romania and Italy. The groups also see scope for growth in Africa and Central Asia.
Removal of the quotas is likely to eliminate weaker market players, according to a report by ING Groep NV analysts. "Efficient producers in NW Europe will increase output, pushing out less efficient producers elsewhere," said.
Sugar consumption may also fall due to substitution by isoglucose, a starch-based sweetener which will also be free from quotas Sept. 30, according Shaw of Marex Spectron.
Consolidation triggered by WTO restrictions has already taken some European sugar companies out of the market, leaving Tereos, Cristal Union and Saint Louis among the survivors in an industry born out of the Napoleonic wars 200 years ago.
Cane Sugar
That's when the industrial production of beet sugar in continental Europe was developed while cane-sugar imports from European colonies were blocked. Beet sugar manufacturing further increased at the end of the 19th century amid government subsidies and consumer boycotts of slave-produced cane sugar.
Most sugar comes from cane grown in tropical countries from Brazil to Thailand. Beet, found mostly in Europe and the U.S., thrives in moderate climes. At current prices and thanks to high yields, the conical root is the most profitable field crop for European farmers, after potato.
Rising production in the EU will help switch the global market back to a small surplus next season, according to ADM Investor Services International and Tropical Research Services, which advises hedge funds.
To ensure farmers stick with growing sugar beets, Tereos is offering a minimum price of 25 euros per ton of produce, Cristal Union 27 euros, while Saint Louis will link the amount it pays to sugar prices, a system it says will enable farmers to earn even more.
Best Placed
"It's positive that the transition from quotas to free market is taking place in a favorable context for beets," Tereos CEO Alexis Duval said. "In the long run, we'll see more consolidation that'll benefit those of us that are big and strong enough to operate in a global market."
In Normandy, farmer Quillet is betting on it.
"There's greater optimism for a stable revenue from beets than for other crops," he said. "There's room to produce more sugar in Europe, and France is one of the best-placed countries for this additional production."
Bloomberg