Sugar Traders Brace for Wild Ride as Surplus Hangs on Weather
Sugar traders are bracing for a wild ride.
While most analysts forecast a return to surplus in the 2017-18 season that starts in October, many are considering "best case scenarios," Michael Gelchie, a trading director at Sucres et Denrees SA, or Sucden, said at the Dubai Sugar Conference on Sunday. With global stockpiles forecast to fall to their lowest since 2011-12, there's little room for weather disruptions that could hurt crops.
Sugar futures in New York jumped 28 percent last year, the most since 2009 and the best performing agricultural material in the Bloomberg Commodity Index. Prices climbed as El Nino-induced drought hurt output in India, prompting forecasts that the world's second-biggest producer will import the sweetener. Global supplies will outpace demand by about 1 million to 3 million metric tons in 2017-18, according to estimates from Tropical Research Services, F.O. Licht GmbH and Kingsman, a unit of S&P Global Platts.
"If the stars align, there will be a surplus; but if something goes wrong, it will be tight because inventories are low," Marcelo de Andrade, global head of sugar at Cofco Agri, a unit of China's largest food company, said in an interview in Dubai. "It's never been so hard to forecast as it is now."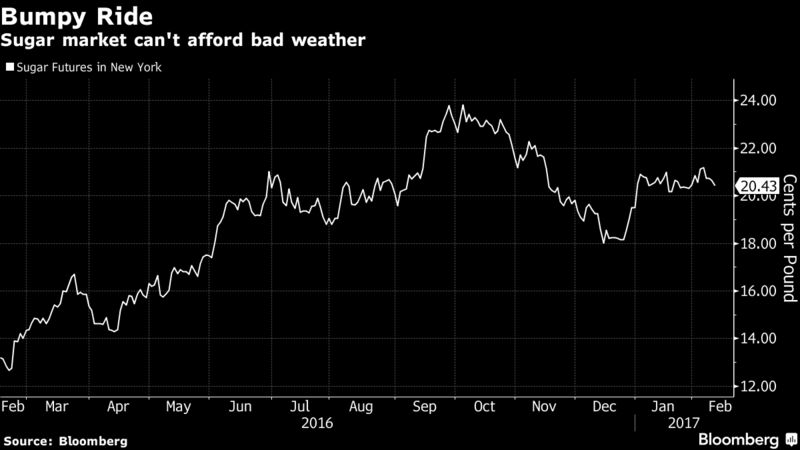 Analysts are counting on a rebound in Asian output, a bigger crop in the European Union and stable production in top grower Brazil. But with about eight months to go before the start of the new season, a lot could go wrong.
Brazil needs to receive more rain through at least March and then have dry weather to facilitate harvesting from April, according to Cofco's de Andrade and Paulo Roberto de Souza, chief executive officer at Copersucar SA, a Sao Paulo-based company with 35 associate mills.
While India will also need a significant rebound, the scale of the recovery is still uncertain, said Gareth Forber, head of sugar research at LMC International. Water scarcity last summer in the state of Maharashtra limited planting of cane that will be harvested 18 months later. Water availability is still a problem in Karnataka, so production may not rebound in the state, he said. Production in the two states should be back to normal next season, the Indian Sugar Mills Association said last month.
Risk Premium
"Stocks are going to get very tight by the end of the season, so we kind of need that Brazilian crop to be very big again," said Kona Haque, head of research at London-based commodities trader ED&F Man Holdings Ltd.
Global stockpiles will fall to 77.2 million tons this season, the lowest in five years, and the market can't afford another major weather event, according to Sucden's Gelchie and Sean Diffley, head of sugar and ethanol at TRS. That means futures will probably swing on signs of any potential disruptions and traders will need to price a market with bigger risks, said de Souza of Copersucar, which together with Cargill Inc., runs Alvean, the world's largest sugar trader.
"There has been a reduction to global stocks and Brazil and India are still uncertain," de Souza said in an interview Sunday. "The market should price a risk premium because any disruption could make traders very nervous."
Supply Shortage
Shortages this season and last will start to bite from the second quarter, when exports will significantly fall short of import demand, according to TRS and ED&F Man. That's because India will begin importing at a time when the harvest in Brazil's main producing region will be delayed due to the lack of leftover cane in the fields. An earlier start to the Muslim festival of Ramadan, when sugar consumption typically increases, will also add to the tight supplies.
Brazil may not have as much cane as many estimate and it will be very hard for Indian production to rebound by about 5 million tons, de Andrade said. Thailand will also need rain and farmers in the EU haven't even started planting the beets that will be harvested from the end of September, he said.
"The only thing that's clear in the sugar market today is that just a few tweaks here and there can completely throw your existing trade-flow set up out of the window," said Mike Gorrell, head of Louis Dreyfus Co.'s refinery Imperial Sugar in the U.S.
Bloomberg