Summary
Hedge funds fell out of love with sugar.
Keep your eye on the Brazilian Real.
Why I am still bullish about sugar.
Time to buy?
I've previously written a couple of articles on my pessimistic outlook for sugar prices. I believe that sugar (CANE, SGAR, SGG) went into consolidation mode since October, and price should continue to decline due to the following:
1) Sugar prices had an overextended rally
2) Record large net long position of speculators in the sugar market
3) The strengthening of the US dollar and the weakening of the Brazilian Real due to Fed's tightening, and Brazil cutting their interest rates.
The price of sugar has briefly dropped below 18 cents before restabilizing at around 18.00-18.50 cents, at the time of this writing.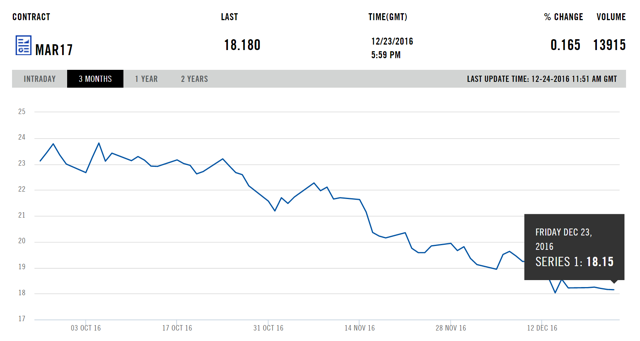 ICE Sugar #11
Hedge funds fell out of love with sugar
According to the latest CFTC data (20th Dec. 2016), managed money has trimmed their long position, from 268,301 lots in early October, to 159,025 lots, at the time of writing. The reduction of nearly 100,000 lots of long position coincided with the bloodbath of the sugar market, where prices have fallen from nearly 24 cents in early October, to 18 cents today. It will be worthy to watch and see whether the remaining longs will be liquidated.
Keep your eye on the Brazilian Real
Experienced sugar traders understand the importance of the Brazilian Real to the sugar market. Brazil is the world's largest sugar producer and main exporter. Consequently, its currency is among the main drivers of world sugar prices. Simply put, the Brazilian Real affects sugar prices in two meaningful ways:
1) A weaker Real means higher sugar prices in Real for Brazilian producers, which encourages producers to sell their sugar.
2) A weaker Real translates to higher sugar prices for Brazil, and encourages Brazilian mills to convert more of their cane into sugar instead of ethanol, therefore boosting the sugar supply.
As the Fed continues its tightening cycle, I feel that the Brazilian Real will continue to face downward pressure, ultimately resulting in a weaker Real. I am thus bearish toward world sugar prices, which trade in US dollar.
Regardless of whether one is bullish or bearish towards the Real, traders should keep an eye on the Real before they decide to jump into the sugar market.
Why I am still bullish about sugar
After doubling its price since 2015, the sugar market is predicted to return to a surplus in 2017/18. Speculators rushed to sell their position, and prices have since fallen to nearly 25% from their high. So do I remain bullish towards sugar?
1) 2017/18 is nearly a year away from us. Sugar for year 2016/17 has barely begun in the northern hemisphere, yet prices were sold off amid talks of return to surplus, and nobody mentioned deficit anymore. I feel that the price decline has more to do with market sentiment rather than fundamental itself. When we inevitably meet shortage in the sugar market later, we will see price rally once again.
2) The forecasted surplus in 2017/18 is rather small. Two million tons of surplus could easily transform to a deficit, should the weather turn out to be unfavorable for major producers such as India and Thailand. Of course, if the weather cooperates, we might see an upward revision on production figures, and, as a result, lower prices.
3) In an attempt to woo the market, Petrobras, the national oil producer of Brazil, raised its gasoline prices. Higher prices means stronger prices for ethanol, hence, a higher ethanol mix from the mills.
While the increase itself is unlikely to result in a significantly higher ethanol consumption, it is notable that Petrobras has implemented a new pricing policy.
SA reported that Petrobras will review its fuel prices at least once every 30 days. If Petrobras walks the talk and allows local gasoline prices to move in line with international prices, this would mean a much higher ethanol price in Brazil, if crude oil price rises. This is certainly possible, as long as OPEC and Non-OPEC follow through on their promise to cut production. This will be very bullish for sugar prices.
Time to buy?
If you think that funds will stop selling their long position, and the Real will appreciate against the dollar from here on, then it is likely that sugar will stop falling and starts going up.
Personally, I feel that the consolidation of sugar is nearly over, but I prefer to wait for further funds liquidation before buying – 140,000 lots is still a very large long position held by money managers. In my opinion, sugar is certainly a buy, should managed money further reduce their speculative long position.
Seeking Alpha